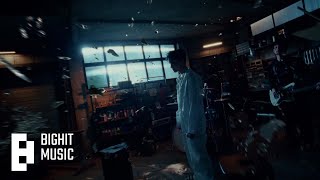 j-hope 'MORE' Official MV
j-hope 'MORE' Official MV
Credits:
Production : Boring Studio
Director : Lee Suho
Creative Director : Yoon Junhee
Executive Producer : Lee Seokjun
Assistant Director : Jeon Sehoon
Production Assistant : Kwon Je-heon, Lee Hoyoung
D.O.P. : Lee Jinhyuk
Focus Puller : Lee Kwangsu
2nd A.C : Ryu Seunggyu
DIT : Son Wooseok
3rd A.C : Hong Kyungui
Gaffer : Oh Jonghwan
1st : Kim Hyung-gyun
2nd : Bae Hyun, Lee Kyunghwan
3rd : Yu Jae-jun, Choi Hyungeon
4th : Jeong Heewook, Yoon Jaewoong
Robot arm : Graft
Operator : Sul Jeewon
PD : Kim Eui-kwan
1st : KIm Heeyeop
2nd : Oh Seunghun
3rd : Heo Inbeom
Jimmy Jib : Speed
Operator : Ji Seunghyun
1st : Bing Junghyun
2nd : Lee Jingyu
Production Design : Jung Boram(RAMI)
Art Team : Kim Hongyee(RAMI), Kim Seoah(RAMI), Moon Sohee(RAMI)
Set Decorator : Kong Sehyun, Han Seokhui, Kim Hyunsoo
3D VFX : AQUON, Sunisle
2D VFX : Kim Hanbin
Cast Hair stylist : Oh Jihye
Assistant : Kim Suyeon
Cast Make up artist : Lee Seoyeong
Assistant : Sung Jeongeon
Special Makeup Team : EIDOS
Special Makeup Chief : Jo Hyeongjun, Kim Minsoo
Special Makeup Assistant : Kim Chaelin, Yang Hyojin, Park Narim, Lee Sihwan, Lee Yoonjung, Choe Misun, Kim Yena
Storyboard : Lee Sooyeon
Supporting Team
Team Leader : Lee Kyoungjin
Team Member : Jeong Hyeok, Lee Myungdong
BIGHIT MUSIC. Rights are reserved selectively in the video. Unauthorized reproduction is a violation of applicable laws. Manufactured by BIGHIT MUSIC, Seoul, Korea.
Connect with BTS:
https://ibighit.com/bts
http://twitter.com/BTS_bighit
http://twitter.com/BTS_twt
http://www.facebook.com/bangtan.official
https://www.youtube.com/user/BANGTANTV
http://instagram.com/BTS.bighitofficial
https://channels.vlive.tv/FE619
https://www.tiktok.com/@bts_official_bighit
https://weverse.onelink.me/qt3S/94808190
https://www.weibo.com/BTSbighit
https://www.weibo.com/BTSmembers
http://i.youku.com/btsofficial
http://btsblog.ibighit.com
#jhope_MORE #JackInTheBox #jhope #제이홉